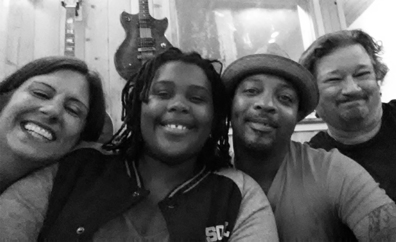 RECORDING SELMA
Eddie's Blog . #01
So the three of us here were chatting about Trayvon Martin, and, also, the current attempts to obstruct African Americans from voting. It made us sad. We were all old enough to remember the 60's. Then we realized… maybe most folks weren't.
That's when Dawn, our Production Manager, mentioned her friend Micheaux Fortson, and how, as UrbanVoodoo, he often addressed these topics in his Spoken Word pieces. "You simply have to collaborate!" she decided.
That moment, Selma was born.
We imagined Selma as a young Black girl growing up during those turbulent times. Through her, we would personify the Civil Rights movement.
For the music, I wrote an aching Blues piece, adding Hip Hop drum beats for "edge." I kept it sparse, leaving room for Micheaux's words. A week later, for the recording session, Micheaux arrived, bringing with him backing vocalist, Nayla Ware. Nayla quickly became the voice of Selma. After a great series of takes, I mixed words and music together and handed it to Marta — who produced the video by captioning lyrics under a series of colorized, historical pictures.
Now that it's done, we all hope that "Selma", in some small way, reminds folks of the value of our Civil Rights movement. Because, sometimes, it is important to remember.